Back to Blog
Automatic TEKS Breakout Level Tracking From Live Social Studies Instruction
How does it work?
Teachers teach 5E-model lessons using free Exploros Texas Social Studies learning experiences designed from the TEKS
Students actively participate in the learning experiences using devices and social media skills – reading articles, developing graphic organizers and other responses, and answering assessments, while also engaging in classroom dialog.
All student activity is mapped to TEKS breakouts, automatically – time spent, assessment scores, and responses according to various depth of knowledge response categories (e.g. brainstorms, graphic organizers, tables, polls, drawings, etc.) Here are more details – it starts with the curriculum.
Exploros Free Texas Social Studies Curriculum
Exploros offers several free courses: 6th Grade World Cultures, 7th Grade Texas History, 8th Grade U.S. History, and 11th Grade U.S History. Each course is broken into units, and each unit contains learning experiences. Each learning experience is a device-enabled teacher guided 5E model lesson that can be taught in a class period.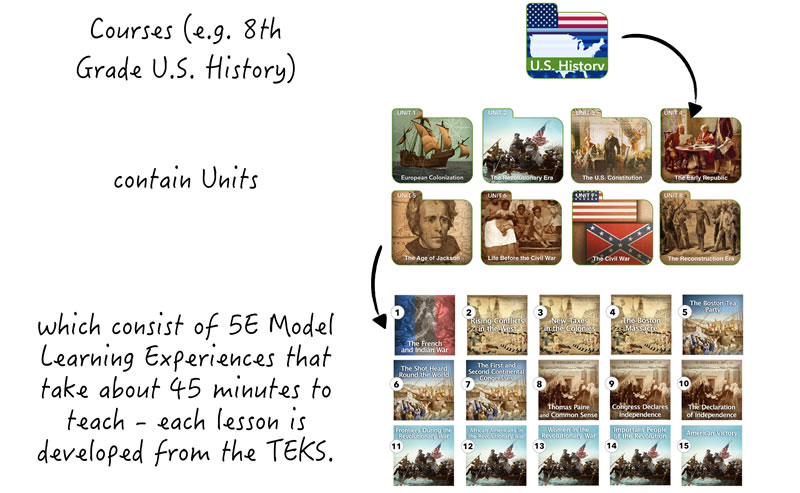 Teachers can pick and choose which lessons to teach, and when teaching in the live classroom, all students participate in the social learning experience using social media skills.
Every Article, Video, Assessment and Prompt is Mapped to TEKS Breakouts
Each learning experience is mapped to TEKS breakouts, and as teachers guide the lessons, and when students work within Exploros, we tally each student's work against the TEKS breakouts addressed.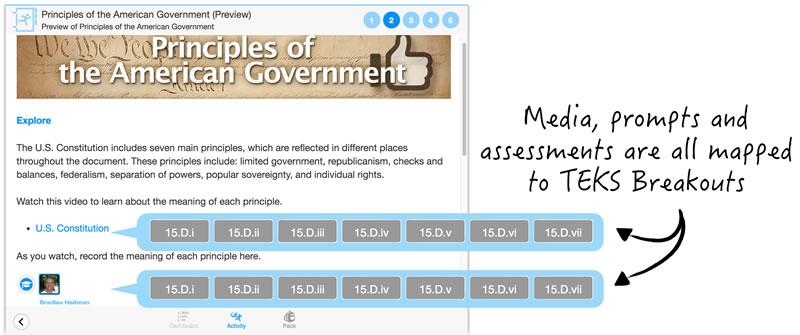 ​
​
In this way, students automatically build TEKS-based portfolios as they learn, and teachers and administrators can more easily see academic progress against the TEKS.
​

​
​
Which TEKS Breakouts Does A Learning Experience Address?
Teachers can see at a glance which TEKS Breakouts are covered in any given learning experience.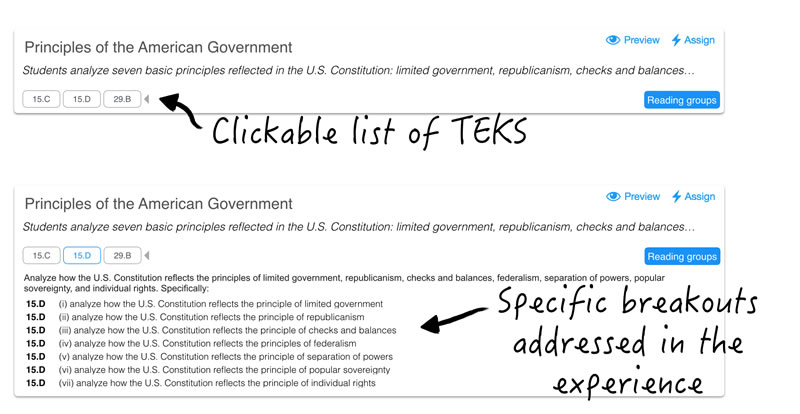 ​
​
Automatic District, Campus, Class and Student Level TEKS Breakout Reports
In the reports, we show the time in seconds spent on any given breakout, and record all student responses against the appropriate breakout. From this, we can build dashboards that help you watch TEKS progress and engagement.
As a teacher or administrator, you'll have access to TEKS reports.
In reporting, we will provide a Concept and Type filter, so that you can focus on the TEKS that are most important - either from a testing standpoint or from an instructional improvement standpoint for the district, campus or class. After choosing the Concept and Type, you can view a heat map that provides an indication of progress against each particular student expectation. When viewing the heat map, you can choose metrics like quiz item scores, responses, breakouts touched, and time on standard.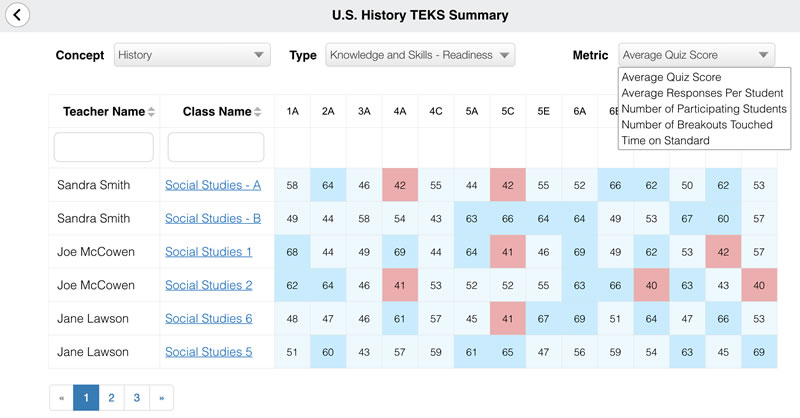 ​
​
Heat maps provide a high-level indication, but you can also drill down to the breakout level. The breakout level lists the break-outs one by one, and shows which learning experiences taught addressed each breakout. You can view results on a class-by-class basis, or student-by-student basis.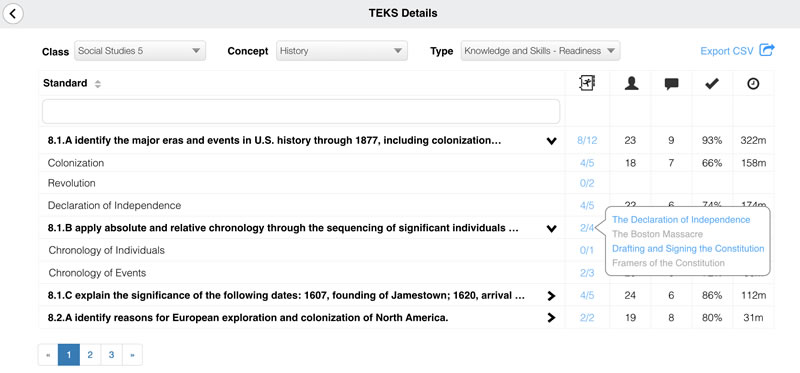 ​
​
Learn More
If you would like to learn more about how you can use Exploros to increase student engagement and automatically begin collected TEKS breakout level information for instructional improvement, sign up for free or chat with us by clicking the button in the bottom right corner of this page!
Please share this post!