Back to Blog
Inquiry & Rigor in Social Studies: TXCSS Fall Conference 2023 Highlights
The TXCSS Fall Conference 2023, which took place last week at the Royal Sonesta Houston Galleria in Houston, Texas, was a truly memorable event for all of us at Exploros. This annual gathering of educators, teachers, and organizations dedicated to the advancement of social studies education provided an invaluable opportunity for us to engage with the education community.
Exploros was proud to be an integral part of this event. Our booth served as a vibrant center of activity and engagement throughout the conference. One of the highlights was our live classroom demonstration, where conference attendees had the unique chance to step into the roles of students and experience firsthand the transformative power of Exploros. This engaging demonstration allowed educators to witness how our platform can create dynamic and interactive learning experiences.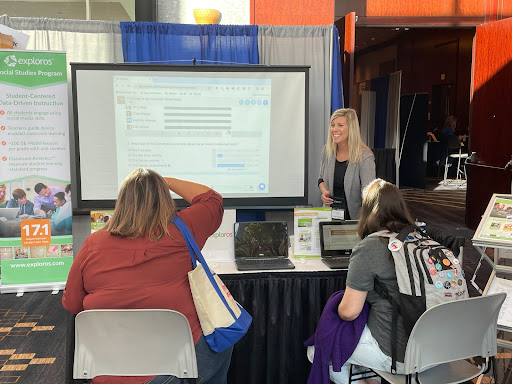 Our team relished the chance to meet and interact with educators who shared their curiosity about our platform and its potential impact in the classroom. The live classroom demonstration provided a platform for us to showcase Exploros' innovative features and receive direct feedback from educators on how it can be integrated into their teaching strategies.
In addition to our booth activities, we had the privilege of reconnecting with loyal users and friends of Exploros. These conversations are always a source of inspiration and a testament to the real-world impact of our tools and resources. Hearing success stories and receiving insights from educators who have embraced Exploros reaffirms our commitment to making teaching and learning more effective and enjoyable.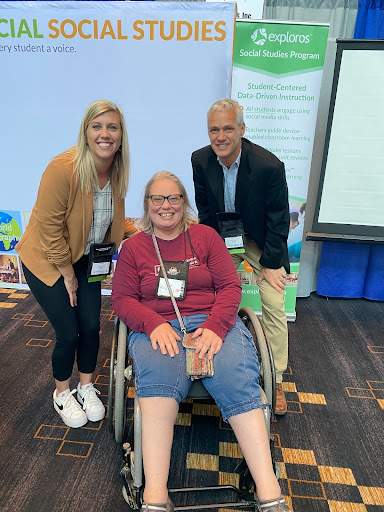 As part of our involvement in the conference, Brad and Sabrina had the opportunity to present and discuss the topic "Impactful Student Growth — Teacher Incentive Allotment, STAAR 2.0, and more!" The session took place on Thursday, October 26th, in the Champions 1 and 2 Conference Room. During this presentation, we shared valuable insights and strategies to support teachers in their mission to foster student growth and success.
To all those who attended the TXCSS Fall Conference 2023, whether you visited our booth, participated in our live classroom demonstration, or connected with us, we extend our sincere gratitude. Your passion and commitment to social studies education continue to inspire us, and we eagerly anticipate carrying the energy and insights from this event into our future endeavors.
Stay tuned for more exciting updates and opportunities as we continue our journey in supporting educators and students. We look forward to meeting you at the upcoming conferences and furthering our collaboration in the field of social studies education. Thank you for making the TXCSS Fall Conference 2023 an event to remember!
Please share this post!